A course for kids and adults who want to make gymnastics easy. Get the expertise of a real gymnastics coach in the comfort of your home.
What makes the Gymnastics Workout different than other home workouts?
The course is based on years of research on holistic movements and mobility.
Divided into two half-hour workouts, this course is the perfect gymnastics training warm-up. It targets areas that are used most in gymnastics that most workouts don't touch (wrist strength, shoulder flexibility, etc.).
But it's not just for gymnastics training. It's a natural stand-alone workout for anyone that wants to gain mobility and strength and relax those tight areas.
This is not your typical pushup, crunch, and aerobic workout...and it's definitely not repetitive (actually, you've probably never seen half of the movements you'll be doing)!
How is it different than a typical gymnastics warm-up?
If you've ever been to a gym, whether in your gymnastics class or watching your child's, you'll notice they're pretty much all the same. Run around, get moving, sit and stretch, practice skills. Although this basic routine can work, it's not the most efficient way to increase flexibility or strength and prevent injury.
The Gymnastics Workout is based on years of studying mobility and movement. In just 30 minutes your body becomes more flexible and able to balance and move into new positions. After the workouts you'll notice how much lower your splits can go and how much higher your bridges are. Instead of keeping strength training and flexibility separate, the Gymnastics Workout combines them to create the ultimate flexibility and strength training program.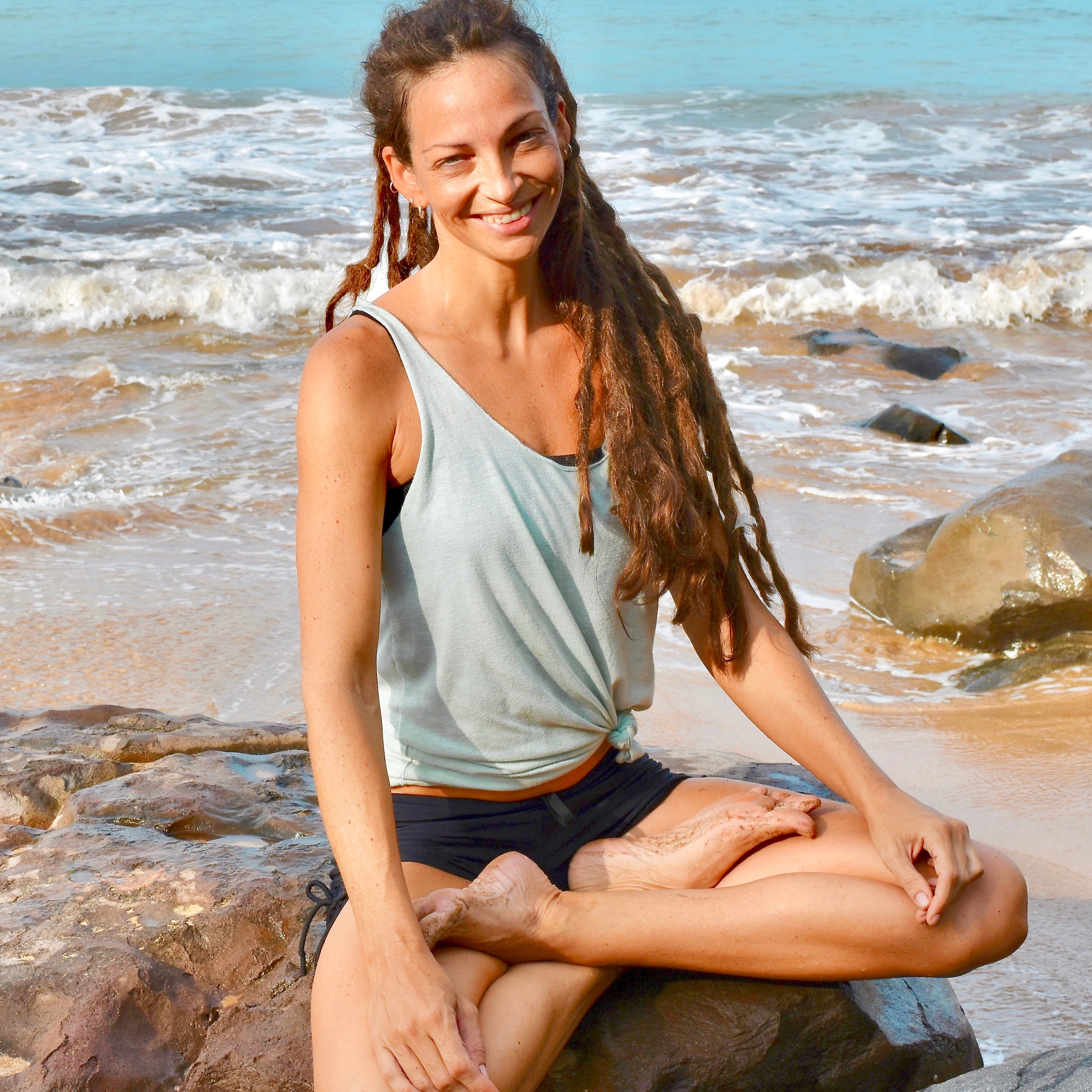 Meet your instructor...
Rebecca Carr is a mindful movement educator and founder of Innate Moves. Through her unique methods based on motor development, gymnastics, and holistic fitness, she educates mothers on tools to improve their family's fitness and development.
Rebecca has 20 years of experience coaching gymnastics, directing competitive and recreational gyms, and training coaches. She created "Gymnastics in the Park", a program to learn gymnastics in nature, and "I'm a Gymnast!", the first all-online gymnastics course for kids. She is also professionally trained in yoga, kinesiology, dance, cranial/sacral therapy and motor development.
Rebecca has worked with thousands of kids & adults and taught in 2 countries. She believes that most health problems can be prevented with adequate movements, interactions with our environment, intentional self-care, and becoming your own expert.
FAQs
What age is The Gymnastics Workout for?
It's geared toward older kids (around 10 and up) through adult.
What special equipment do I need?
None! A wall is great for some handstands and you may want a mat if you have hard floors. We also use a book or piece of paper in the upper body workout.
I don't have gymnastics experience, can I still do this?
Yes, the course is totally beginner-friendly! I provide modifications for many of the exercises to make them accessible for all.
Will this teach me gymnastics?
This is a warm-up and workout. It is not instructions on skills. It will get your body more agile, flexible, and strong in order to help you with gymnastics skills.
What can I watch the videos on?
The videos are viewable online and also downloadable to whatever device you choose. So feel free to watch on your PC, Mac, tablet, or TV anytime, anywhere.
Can I get a refund if I don't like it?
Due to the downloadable content of the course, it's not refundable. Please contact me if you have any issues and I'll do my best to work out a solution:)
Wanna see more? Check out this preview video 👇
Course Curriculum
Available in days

days after you enroll

Getting Started
Available in days

days after you enroll

Gymnastics Workouts